LinkedIn is rolling out clickable links in photos and videos in the newsfeed. This will be available on personal profiles as well as on your business page.
This is good exposure for you, so I want you to be ready.
When I first reported on this on my LinkedIn profile last week, I didn't have this feature. The next day, I had it and was able to test it, which I will show you in a moment.
A Few Details About Clickable Links On LinkedIn
You can now add clickable links to LinkedIn photos & videos on LinkedIn profiles and business pages.
You can add a link to an important URL that you would like others to see. Think of articles, downloads, presentations, podcast episodes, blog posts, webinar invitations, organizations you and your firm support, or anything else you think might provide value to your connections, followers, and others who might find your clickable post.
The rollout of this feature will allow LinkedIn users to add these photos and videos, along with the clickable link, via mobile. It will be added to the desktop app later this year. You can click on the link via mobile and desktop.
I encourage you to think now about the photo and link you would like to test first. Don't wait for perfection because you will talk yourself out of using this valuable new feature. Test a few different links and media to see what your community appears to be interested in clicking on the most.
Remember, you are just like everyone else with this feature. No one starts in the middle. LinkedIn doesn't even start in the middle. They have to test new features they hope will be successful, too.
Examples of Clickable Links In LinkedIn Photos and Videos
To give you inspiration, here are 5 examples from LinkedIn's announcement.
Looks Like Facebook and Instagram Stories
Those of you who are familiar with the Stories format on Facebook and Instagram, and even LinkedIn (RIP, LinkedIn Stories), might think this clickable link post looks a lot like a Story, and you are right. The main difference, and this is significant, is that this link is on media that is in the newsfeed, not hidden in the Stories section. This means exposure could be significant. I will be watching and testing to see how the LinkedIn algorithms feel about external links in the newsfeed.
Instructions To Help You Add A Clickable Link To A LinkedIn Photo
I think you will find the process shown below is quick and intuitive.
Add A Photo: On your home page, click on Add a photo.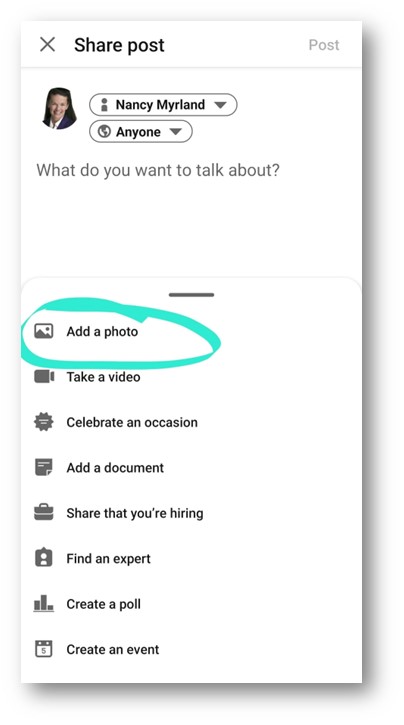 Tap On The Link Icon: Upload your photo from your phone and tap on the link icon at the bottom of the page (sorry, not sorry for the gratuitous selfie with Nick Myrland).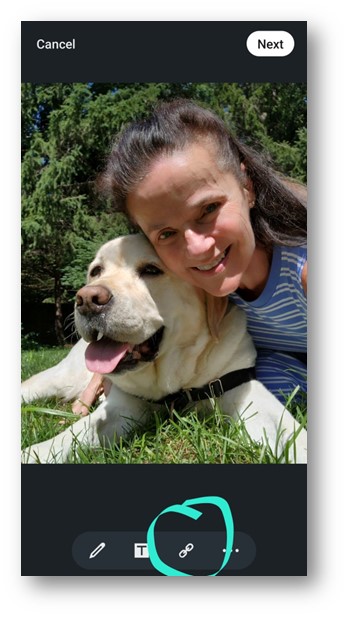 Add Your URL & Custom Link Text: Fill in the URL and the link text (description) to help viewers understand what you are inviting them to click on as they need to connect the dots to the time and the risk they are taking clicking on a link that will take them to another site.
Preview Your Link & Click Done: You will want to take a moment to preview the link so that you can see the URL you have posted is actually opening when clicked on.  After you do that, click Done.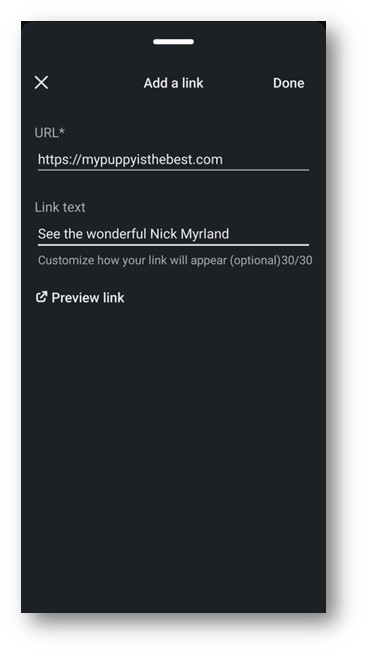 Add A Comment Explaining What You Are Posting. Don't forget your hashtags.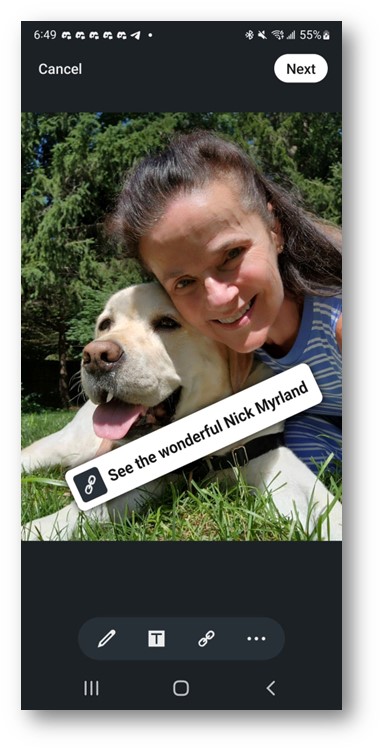 Example of A Clickable Link In A LinkedIn Photo
Thank you for obliging me while I used a picture of my sweet Nickie and me to demonstrate this new feature. After I reported this announcement last week, I found the feature had been added to my LinkedIn account the following day.
You know I had to test it right away. Below you will see a screenshot of the update post I created, which added a clickable link to one of my free resources. In case you are at all interested, if you visit that post here, you can click to receive a copy of my 8 LinkedIn Tips For You checklist.
Let me know what you think.
What link do you think you will share first?
Feel free to tag me when you try this so I can see your great work.
As always, if you need help with LinkedIn strategy, I am always here.
Nancy Myrland is a Marketing and Business Development Advisor, specializing in Content, Social & Digital Media. She helps lawyers grow their practices by integrating the right marketing practices in order to build their reputations and their relationships, which leads to building their practices.
Also known as the LinkedIn Coach For Lawyers, Nancy is a frequent LinkedIn trainer, as well as a content marketing specialist. She helps lawyers, law firms, and legal marketers learn and implement content, social, and digital media strategies that cut through the clutter and are more relevant to their current and potential clients.
She is also a personal branding speaker, trainer, and advisor, helping legal and business professionals in firms understand the importance and the impact of defining and reinforcing their personal brand. 
Nancy is also the founder of the hybrid self-study and online course, LinkedIn Course For Lawyers, where she personally guides lawyers through the sequential creation of their LinkedIn profile and presence. 
As an early and constant adopter of social and digital media and technology, she also helps firms with blogging, podcasting, video marketing, voice marketing, and livestreaming. Nancy also works with many firms and lawyers on Zoom and virtual presentation training and coaching to be the best they can be when presenting online.
She also helps lead select law firms through their online social media strategy when dealing with high-stakes, visible cases.