I just attended the LMA, or Legal Marketing Association's, 3rd annual P3 Conference in Chicago. It was sponsored by the LMA Client Value SIG, or Shared Interest Group. This year's co-chairs were Keith Maziarek, Sr. Manager, Strategic Pricing for DLA Piper, & Purvi Sanghvi, Director of Strategic Planning with Paul Hastings.
First, A Little History
Many of us who grew up in sales and marketing studied the 4 Ps of "The Marketing Mix," which are:
Product
Price
Place
Promotion
They were invented by Jerome McCarthy in the '60s, and made famous by Phillip Cotler in his book, Principles of Marketing, in 1967.
Along the way, some changes were made, and recognition that those who sold services (that's you), needed a slightly expanded set of Ps occurred. This is when we saw The 7 Ps of Marketing adopted. The first 4 are the same, but the next 3 are:
People
Physical Environment
Process
LMA focuses on many aspects of the marketing mix for law firms, but 3 years ago, we added a focus on 3 Ps that were gaining traction in the legal profession.
Those are:
Pricing
Process Improvement
Project Management
Pricing is, obviously, one of the original 4 Ps of marketing. I suggest we think of process improvement and project management as methods for the effective strategy, development and implementation of all of the other Ps we see above, in addition to just about everything else we do in law firms.
Put another way, you might say that managing projects and improving processes helps us do everything we do better. They also help our clients do everything they do better because these processes attempt to, at a minimum, give focus, structure, efficiency, and the ability to more effectively match what you do with what your clients need and want.
There…your marketing history lesson is finished…for today, that is.
On To This Year's P3 Conference
Since this conference started 3 years ago, we have seen a rapid increase in the number of people attending. According to the P3 conference blog:
Attendees came from four continents and seven countries.
Attendance increased by 34% over 2014.
More than 60 of the AmLaw 200 firms were in attendance.
Over 65 speakers presented 33 sessions over the 2-day conference.
43% of the attendees participated in social media at the event and contributed 872 #LMAP3 Tweets.
The #LMAP3 hashtag reached approximately 250,000 users on Twitter.
 Toby Brown, Chief Inspiration Officer
This is not Toby's real title, but a title I am affectionately giving to him because he is the heart and soul behind the LMA Client Value SIG, as well as this conference. He has brought many of his peers along for the ride, but he remains in my mind as our inspiration in this area. He had a vision for this conference several years ago, and is the primary reason it exists today. Rumor has it he is helping to concoct plans for a P3 conference in London.
Officially, Toby is Chief Practice Officer for Akin Gump. He and Amar Sarwal, Vice President and Chief Legal Strategist for the ACC, which is the Association of Corporate Counsel, kicked off the conference with a conversation about the progression of the three Ps, as well as where they are headed, in addition to the legal disruption that is occurring within in-house legal departments that lawyers and pricing directors in law firms need to be aware of.
Change is Happening. We Are The Change.
Toby made it very clear that there is change afoot, and the people at this conference are knee deep in the evolution of pricing in law firms. He believes that:
"Change is happening. We are the change."
He pointed out the challenge is that most of what law firms do is because of precedent, or "driving the boat by watching the wake."
Toby suggested we might want to look out over the bow and see what's coming.
He said:
"As a profession, we have an especially hard time dealing with change."
He acknowledged that…
"We don't have cultures of change in law firms….lawyers don't want to change, but they want change to happen around them."
I think this is promising because we haven't always been able to say that lawyers want change to happen around them, have we? There are always exceptions, and I hesitate to generalize, but this is evidence that change is happening. After all, if we accept change around us, we must know that we are next, correct?
Toby talked about reasons people embrace change, mostly when they are forced to change. They are forced for positive reasons such as establishing competitive advantage and an increase in income, but also because of negative reasons, such as competition and a loss of income. Very similar reasons, aren't they?
One analogy of forced change Toby used was the automotive industry. Where cars used to be long, not lean, and gas hogs, the EPA and other innovations caused automakers to have to change.
Urgency, and something immediate and (unfortunately) negative are ways Toby suggested we can spur change in law firms. Toby and Akin Gump are serious about causing this change by tying pricing to profitability. Toby has begun to give his lawyers FICO-like profitability scores that are easy for them to understand, and that result in an overall grade.
Toby reminded us that traditional FICO scores are given to say that…based on these factors, you are a certain kind of risk for repaying your debt. Even though Toby stressed there are many tools that can be used to automate this type of profitability in law firms, the one Toby uses to create this type of score is Umbria from Prosperoware. They use data to determine that, based on history, this is how profitable attorneys will be in the future. Partners see their dashboards on a daily basis, and have been quick to accept this because it is something much more tangible, as well as easy to understand, than anything they have seen before.
Personal aside…if this scares you, I understand that, and it probably should. This is the way many of your clients have been graded, judged and reviewed for many years. This doesn't have to have doomsday implications because it is a way to see how you are doing now so you can fix what needs to be fixed, if anything.
Toby said there are signs of progress. In terms of pricing, a recent ALM study showed that 70% of firms have someone in a pricing role, and 50% expect their pricing teams to grow this year. The study also shows that firms are putting leaner teams together, vs. the large teams firms used to throw together to staff a matter.
The ALM study also showed that firms are preparing matter budgets more than before, and that there are small pockets of progress related to LPM, or Legal Project Management.
One of Toby's predictions and suggestions:
"Let's not let Axiom have all the fun. Axiom's business model is they hire all our castaways after we have spent millions of dollars training them, and they're making lots and lots of money off of our castaways….so why are we casting them away? Even if they aren't partner material, they might still be good lawyers."
I suggest you watch the opening session video to see Toby talk about how the computer we all know as IBM's Watson is having an impact on the legal profession, as well as additional suggestions Toby made for you to see improvement in your firms.
Stay tuned for my next post as I recap opening session comments from Amar Sarwal, ACC's Vice President and Chief Legal Strategist, as he cautions lawyers not to become bystanders in the legal profession.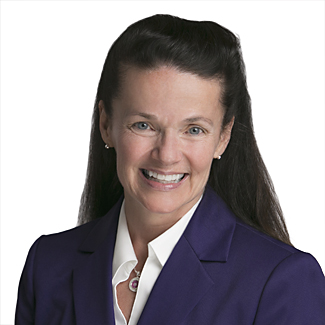 Nancy Myrland is a Marketing, Content, Digital & Social Media Strategist, Speaker & Advisor, helping lawyers, law firms and legal marketers grow by strategically integrating all marketing disciplines. She is a frequent LinkedIn and Twitter trainer, as well as a content marketing specialist. She helps lawyers understand how to make their marketing and business development efforts more relevant to their current and potential clients, and helps lead firms through their online strategy when dealing with high-stakes, visible cases.