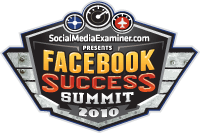 Mike Stelzner has organized another powerhouse lineup of 22 Social Media visionaries that will keynote and instruct attendees at the 1st annual Facebook Success Summit.  It's not too late to attend the Summit, which takes place online over the next few weeks, as all sessions are archived for your convenience.  If you would like more information, visit the SMSS10 website.
Mike asked author, visionary and  Social Media strategist Brian Solis to keynote the kickoff of the Summit yesterday.
Brian was as good as I expected.  He is the author of the best-selling book about Social Media titled Engage!, The Complete Guide for Brands and Businesses to Build, Cultivate and Measure Success in the New Web.
Engage is exactly what he did yesterday. He engaged our minds as we continue to study and learn as much as possible about the Social Web in order to help our clients and our businesses move forward in the digital age.
A digital analyst, sociologist, and futurist, Brian has influenced the effects of emerging media on the convergence of marketing, communications and publishing.  Yesterday, he engaged his audience with the informative, somewhat controversial to some in attendance, idea that Facebook is where we as marketers, entrepreneurs, service providers and businesspeople need to be spending our attention.
By the sheer number of users that Facebook has, which is currently over 500,000,000, vs. Twitter having 160,000,000 million users, as well as the format that Mark Zuckerberg and his team has built, which allows for constant interaction, feedback, innovation and commerce, Brian believes a hefty Facebook presence, which he also likes to call your Facebook Brand Page, is where marketers need to focus their attention.
As I often do, in order to share content with others, I take notes by "LiveTweeting," or posting notes live via my Twitter stream in messages that are approximately 120 characters long.  By attaching the established search term #FBSS10 to each of our Tweets, we are then able to conduct a search to uncover all of the conversation that centers around this year's Summit.
I have pasted my Twitter updates, or Tweets, below for your review so that you can experience a bit of the flavor of what Brian shared with us last night.
A personal favorite of mine is #52: "This is your time to make a difference. It needs your full attention & your full intentions."
As always, please feel free to leave your thoughts about his Facebook Brand Page focus in the comments section below, and "engage" with others if you would like.
1)  "By this time next year, you, as a brand, will spend more time on Facebook than on Twitter."
2)  "Twitter is fleeting."
3)  "In 2011, we have to look at how to diversity you as a brand."
4)  "Ppl spend over 700 billion minutes on Facebook every month."
5)  "The ave user is connected to over 80 community pages, groups or events [on Facebook]."
6)  "More than 150 milliuon ppl interact with Facebook on external sites every month."
7) "There are over 150 million Facebook users accessing FB via mobile device."
8 )  "What is your mobile strategy right now for Facebook?"
9) "@Starbucks has 13.2 Facebook Fans, but only abt a million on Twitter."
10) "Recent study….72% of businesses stated they had a [so-called] 'Social Media strategy' in place."
11) @briansolis is talking about the fallacy of Social Syndication…posting across platforms.
12) Many businesses express their fear of creating an official Facebook Page to Brian Solis.
13) "If you fear feedback and comments from customers, then I think you have others issues to discuss."
14) "To hide from this feedback (once you build your presence) is cowardice."
15) "Social Media is not owned. It is shared. It is an earned privilege."
16) "Don't overthink Social Media….I believe you have to have a mission."
17) "Social Media is your platform for communicating that vision, or that message."
18) "We assume that the three Fs are all equal…friends, followers and fans. They are not."
19) "The last mile in Social Media: It takes a human being to connect you to the company."
20) "The last mile is driven by the belief that all 3 Fs are not created equal…difft strategies for each."
21) "They can be fans, idea generators, advisors, foes…all varying roles that need different strategies."
22) "The 5th P of the Marketing Mix should be PEOPLE!"
23) "The 5th P is people. Do you know what it takes to activate this 5th P? Empathy."
24) "This is the difference between listening and hearing."
25) "Just documenting sentiment isn't enough. What inspires them? What are their options, challenges?"
26) "The top reasons ppl become Fans: Customer; 2 support the brand; discounts; fun/entertaining…" 27) "Our actions equate 2 social currency that is the economic infrastructure of that Social Network."
28) "Reputation, trust & relationships are earned thru our actions & words."
29) "Actions speak louder than likes."
30) "Pay attention to your your Credit Score, or Social Currency, on the Social Web."
31) "Target will soon be selling Facebook gift cards to buy what will soon be sold there."
32) " Zuckerberg's Law: You will double the amount of your content every year."
33) "We have to look at what it is that moves these Fans. "
34) "It's our job to attract their attention, and their attention is on Facebook Walls."
35) "No brand is an island. People don't go to your website as much as they used to."
36) "Facebook is your homepage for the Social Web."
37) "The rise of the Social Customer deserves much more credit than we give it."
38) "You have to design and host the experience for your users on your Facebook Page."
39) "It's not just a Facebook Page. It's a BRAND Page."
40) "Everything begins with search. How does your business perform in social search?"
41) "How are you optimizing your Facebook presence for Social Search on Facebook?"
42) YES!!–> "Think continuum vs. campaign."
43) "What is it that you want to sell, to inspire, to design, then build that in to your presence."
44) You can purchase flowers, pizza, blue jeans, other products directly from Facebook.
45) TAKE NOTE>>> "The infrastructure is so much easier to work through than buying through websites."
46) "The average 'liker' has 2.4x the number of Friends than a typical Facebook user."
47) Those who put digits in their updates are shared more than those who don't.
48) "Those who use verbs more than nouns are shared more."
49) "It's about who you're NOT connected to that matters. What are you going to do abt it?"
50) "Remember K.I.S.S. — Keep it Simple & Shareable."
51) "We earn the stature, relations and experience we deserve."
52) "This is your time to make a difference. It needs your full attention & your full intentions."
53) @briansolis is now taking questions from around the world.
54) GREAT kickoff to Facebook Success Summit w/keynoter @briansolis — great content Brian!
55) So many kind people RTing @briansolis content that I Tweeted tonight…THANKS!
56) Brian, you did a great job! Thank you! 🙂
Again, please feel free to leave your thoughts about his presentation in the comments section below, and "engage" with others if you would like.
If you are interested, other posts on Social Media can be found in the Social Media section of Myrland Marketing Minutes. I would also love to have you as part of our community by signing-up for upcoming blog posts in the upper-right hand corner of this page.
Thank you very much for stopping by!